With the school year approaching quickly, now is the perfect time to practice and inform your kids about the importance of school bus safety. There's no harm in taking extra precautions as we get ready for back to school.
Several of the 25 million students around the country start and end their day with a ride on the school bus. According to the National Highway Traffic Safety Administration, it is about 70 times more likely that students get to school safely than any other form of transportation, and less than one percent of all traffic fatalities across the nation are on school buses.  
Even though school buses are one of the safest forms of transportation for our students, it's important that children do their part as well to try and avoid any injuries.
Tips for kids
Stand at least six feet from the curb while waiting for the bus.
Wait until the bus has completely stopped and watch for the driver to signal that it's safe to board.
Hold on to the handrail and find a seat quickly once boarding the bus.
Listen to the bus driver and sit still to avoid any distractions.
After exiting the bus, cross only in the front, never behind it.
When crossing, make eye contact with the driver and wait for the driver's signal that it is okay to cross. Look left-right-left and safely cross when there is no traffic or vehicles that have stopped.
When on the bus make sure to buckle up if seat belts are available
Keep aisles clear of books and bags.
Avoid the danger zones: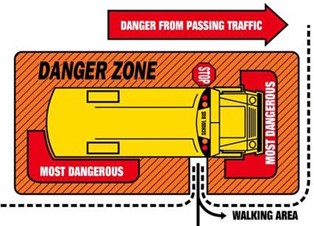 As Parents and caregivers, there are ways you can prepare your children to be safe around school buses by sharing the tips below.
For Parents
Walk with your young kids to the bus stop and wait with them until it arrives. Make sure drivers can see the kids at your bus stop.
Make sure your child arrives at the bus stop at least five min before the scheduled pick-up time.
Show them where to wait for the bus and stay at least six feet from the curb.
Remind your child that the bus stop is not a place for them to run around and play.
Make sure your child never walks behind a bus.
If your child must walk across the street, tell them to walk in front of the bus, on the crosswalk, and to make eye contact with the bus driver.
Teach your child the importance of behaving on the bus since any disruption can cause the bus driver to become distracted and could result in a crash.
For Drivers
Help keep our kids safe by following these tips when driving near school buses and bus stops.
Be alert. Children arriving late and in a hurry to catch the bus may run into the street without looking for traffic.
Slow down. Watch for kids playing and congregating near the bus stop.
Follow at a safe distance, buses tend to make frequent stops.
Follow the speed limit and laws, especially in school zones and at bus stops.
Learn and obey the school bus laws in your state:

Yellow flashing lights indicate that the bus is preparing to stop to load or unload children. Motorists should slow down and prepare to stop their vehicles.

Red flashing lights and extended stop arms indicate that the bus has stopped and that children are getting on or off. Motorists must stop their cars and wait until the red lights stop flashing, the extended stop sign is withdrawn, and the bus begins moving before they can start driving again.
We hope these tips have been helpful, but if at any time your child gets injured while traveling to or from school or on any occasion, please visit one of our facilities. We're here to help 24/7, 365 days a year. Our patients are our top priority, and each staff member is highly trained to give your child the efficient and effective medical care they deserve.
Disclaimer: As a service to our readers, New Braunfels ER & Hospital and Nutex Health state no content on this site, regardless of date, should ever be used as a substitute for direct medical advice from your doctor or other qualified clinicians.